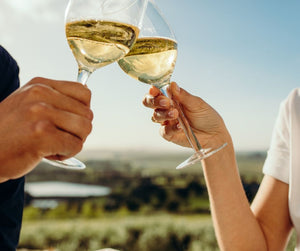 Latest Review of Our Gruners.
Loving this review from Gilbert Labour on our newest Gruner Veltliners! Great descriptions of what to expect from Gruner Veltliner and we couldn't agree more about the food pairings - perfect with a bit of spice! See full review below:
STOCKMAN'S RIDGE (Orange NSW)
STOCKMAN'S RIDGE new 2022 GRUNER VELTLINER release.
Gruner Veltliner is currently an 'under-the-radar' grape variety down-under but slowly finding a niche in certain cool-climate regions.
Gruner Veltliner traits range from the sharp austerity of a young Riesling / Semillon to the mellowness of lightly oaked Chardonnay / Pinot Gris.
It is a chameleon-like variety whose profile can depict a display of lemon / lime tartness when less ripe, to grapefruit & eventually to peaches / apricots mellowness at full ripeness
At heart it has a core of crisp minerality, mixed herbs and white pepper.
The Stockman's Ridge Gruner Veltliner vines were planted around 2012 around the high-elevation slopes of Mount Canobolas (Orange NSW).
Vigneron & owner JONATHAN HAMBROOK is quietly confident in the future of the variety and is actively pioneering its expansion in the region.
The two current Stockman's Ridge releases of Gruner Veltliner, made by WILL RIKARD-BELL, are the 2022 STOCKMAN'S RIDGE 'SIGNATURE' ($40) & the 2022 STOCKMAN'S RIDGE 'RIDER' ($35)
The STOCKMAN'S RIDGE 2022 'SIGNATURE' is vinified from ripe fruit and matured in seasoned French oak. It delivers a fuller, more rounded palate of primary aromas and intriguing flavours in the quince/ pear range. This is supported by a vibrant and freshly tart acid spine. Mid-palate astringent grip makes it an intriguing, food-friendly drop suited to Asian-style & curries. However I enjoyed mine with an old-fashioned pork pie.
The STOCKMAN'S RIDGE 2022 'RIDER'. This label renders homage to the Australian horsemen, full of adventure and hard riding and whose spirit defines the Australian character.
It opens with a viscous front palate grab of crisp musk. This is followed by jubey apricot and tinned pear juice.
It channels aromas and crispness of young Rieslings and Gewurztraminer.
Stainless steel fermentation has captured and retained fruit freshness and linear palate grip.
This young wine is definitely a food-wine and at its current price point, will eventually find a niche market
---